"Palestine Regiment? What the heck is that again?"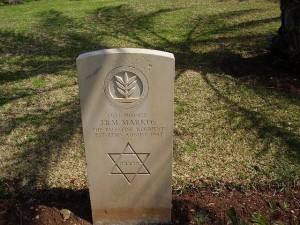 Nothing such as a good old marble to register some truths that some would like to forget or ignore.
This is the tombstone of JBM Markos.  It can be read that he was a Private, that he died between August 21 and 22, 1942, that he belonged to  the "Palestine Regiment" and that he was Jewish.
What? A Palestinian regiment in which, obviously, served a Jew? Damned!
Since this photograph is without legend and that this tomb is on the model of the British military tombs, the next step is to go to the "Commonwealth War Graves Commission" website and to enter the data on this tombstone stele. Little can be learned, but there's still something interesting to learn.
The soldier was called Jaacov Ben Moshe Markos, military identification number  1712 and he is buried in the tomb number E.H. 5 of the Khayat Beach War Cemetery,  5km South-West of Haïfa, Israël.
The Palestine Regiment was formed in 1942, to regroup Palestine Infantry Companies formed and attached in 1940 to the Royal East Kent Regiment. Originally, the British considered the recruitment of Jews and of Arabs for these Palestinian Infantry Companies but the number of Arab volunteers remained very small compared to the Jewish volunteers. There were, in the end, a total of 15 Jewish companies, divided into 3 Jewish battalions for only 1 Arab battalion.
In September 1944, the Jewish elements of the Palestine Regiment were set up in a Brigade that reached 5000 men, the Jewish Brigade Group, commanded by a Canadian Jew, Brigadier Ernest Benjamin. The Jewish Brigade fought heavily in Italy, in the Senio Valley, close to Bologna and at the end of the war,  the Jewish soldiers helped managing the Death Camp survivors or to acquiring weapons for the Haganah.
But all started with Palestinian soldiers, in Palestinian companies of a Palestinian regiment, because at the time, Palestinians were Jewish and Arabs were Arab and saw no difference with their brothers of Egypt, of Jordan, of Syria, of Iraq or Arabia. Jewish Palestine opposed to Arab Middle East. You can just change the words by a nice pirouette but the facts remain the same.
Pug – December 16th, 2014
PS: But moreover, the Middle East is Arab only by political domination and force. We do not forget the Mesopotamian, Coptic, Phoenician, etc, indigenous communities whose rights, like those of the Jews, are disputed by Arab supremacy. And by the same occasion, we do not forget the indigenous communities of North Africa who have the same problem!