Invader or Invaded?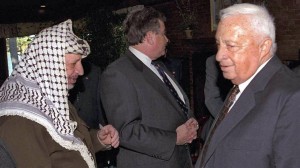 Little historical game that can be checked by anyone. Let's pick two majors characters of the israeli-arab conflict, born about the same time
–Ariel Sharon, by real name Ariel Scheinermann, born February 26, 1928 at Kfar Malal, in the British Mandate of Palestine and deceased at Ramat Gan, Israel, January 11, 2014.
-Yasser Arafat, by real name Mohamed Abdel Raouf Arafat al-Qudwa al-Husseini, August 24, 1929 in Cairo, Egypt and deceased at Clamart, France, November 11, 2004.
Ariel Sharon is the son of a Jewish couple from Eastern Europe that migrated to Palestine in the early 20's while nothing forced them to. They did it for love of the Promised Land and of hope for their children and became farmers there.
Yasser Arafat is the son of an arab couple from Palestine that moved to Egypt in the early 20's while nothing forced them to. His father was supposedly a shopkeeper from Gaza and the mother from Jerusalem but it is not known for sure why they left Palestine.
Ariel Sharon spent his whole life in this land, first called British Mandate of Palestine and the Israel.
Yasser Arafat spent 4 years in Jerusalem during his youth and spent most of his life in Egypt, Jordan, Koweit, Lebanon, Tunisia and before moving to Ramallah, Samaria at the end of his life.
The young Ariel Sharon enlists in the Gadna, a jewish selfdefense militia and then in the secret jewish army, the Haganah. He fought in the 1948 Independence War and was severely wounded near Latrun during combat to liberate Jerusalem's Jewish Quarter's starving population from the Arab siege.
The young Yasser Arafat joins Jewish sports clubs in Cairo to know his enemy. He receives a commando training from a former Waffen SS officier. He is involved in supplying weapons to Palestine and spends the war as private secretary to his uncle, Haj Amin Al Husseini, Grand Mufti of Jerusalem, friend of Hitler and perpetrator of the Arab riots of the 20's and 30's against Jews.
Ariel Sharon becomes an officer in the Israel Defense Forces and works up the ranks with a sense of courage, example and tactical capability that makes him world famous and taught in military academies. His looks are those of the disciplined soldier of a regular army that defends its country. Even as a general, he will be wounded in combat several times. He is accused of war crimes while never being directly involved in the cases held against him. As a politician and Israel Prime Minister through democratic vote, he will go against the interest of his own people to lend a hand to the Palestinians
Yasser Arafat becomes a puppet of Egyptian leader Nasser who imposes him as head of the Palestinian movement, though he is in a ballot with a Syrian. His looks are chosen by Soviet advisors to create a symbolic figure like Che Guevara.  Always safe and protected, he never participates in actual actions where he sends hundreds of fedayeen terrorists to confront the Israelis but also his Jordanian guests in 1970. As head of Fatah and Liberation Organisation Palestine, he is directly responsible for dozens of terrorist acts and crimes committed with his consent. Becoming the only leader of the Palestinian cause by eliminating his opponents and by political maneuvers, he will refrain from no lie, deception or betrayal to avoid making concessions to the Israelis. Incidentally, in 2003, he's the 6th World fortune in the Politicians ranking of Forbes magazine.
So let's see:
Ariel Sharon is seen as an invader of Palestine where he was born and Israel where he lived all his life and where he shed his blood to defend his people.
He's considered a barbaric and criminal war occupant.
Yasser Arafat is considered as fighter he has never been, and an activist of the liberation of a country where he wasn't born and where he has never lived.
He's considered a noble and respectable figure of resistance to oppression movement.
What's wrong, here?