Face the facts and wake up!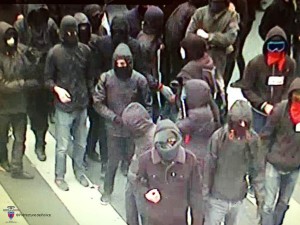 Question:
Who are the demonstrators, yesterday November 29th in Paris, who faced the prohibition of demonstration under the terms of the State of Emergency voted by the National Assembly, who have ransacked the people's memorial  at Place de la Republique in tribute to the victims of the November 13th Paris Attacks, which have thrown candles, flowerpots and all that could to be used as projectile towards the Police that tried to maintain republican law, who disputes the State of Emergency set up by a legal and legitimate government for the protection of the citizens, who wish the massive reception of migrants and refugees from the Middle East, some of whom took part in the Paris attacks while they called fascists all those who dared to fear it and who refuse military operations against ISIS?
Answer: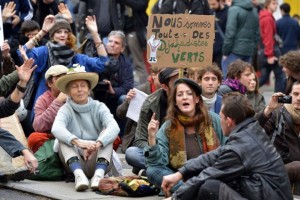 Far-Left militants, members of the New Antcapitalist Party of Olivier Besancenot and Ecology militants who, last year in Nantes were happy to be called as "Green Djihadis" (even if the expression was invented by a Farmers Union to denounce their extremism).
They are people who hate the French flag, hate the French Army, hate the rich, hate the middle class, hate the business owners, hate businesses, hate the Jews as symbols of Israel, hate Israel as symbol, according to them, of American capitalist and imperialist colonialism.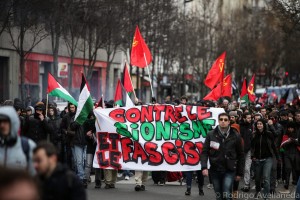 They are the same ones as that are found  in Anti-Zionist demonstrations, who spread heaps of lies, false charges, Conspiracy theories and ecologist-marxist propaganda about the free world and Israel, who spend their time finding excuses to crime, who justify trade-union violence ( Jean-Luc Mélenchon in about Air France a few months ago), who howl Anti-Israel slogans, next to Palestinian terrorist and ISIS flags, who encourage and justify international terrorism and murders, obviously in Israel but also, it would be time to establish a clear link, in France!
Keep cool, I am believe in a democratic republic that respects human rights and I do not call for all of them to be jailed for treason, although that itches me.

But I want, as clearly and strongly as possible, to denounce these people and to face the facts: Two weeks after the Paris Attacks, they are in the streets to promote their ideologies, they ridicule French law, defy  our national authorities, scorn and insult the victims and the victims' families of the attacks, support terrorists and express their opposition to a response against their leaders. These people, who stand openly as enemies of the French Nation, are the same ones who voluntarily close their eyes, even silently applaud, to Palestinian attacks against Israelis, which approve rockets launching against civilian population, call for the Boycott of Israel in defiance of French Law and do not keep any lie and propaganda to throw out on Israel.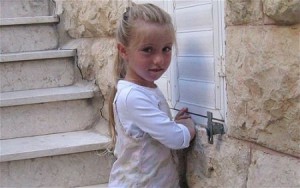 I tell them directly: Take a good look at this pretty little girl, Myriam Monsonego, caught by the hair and shot through her face by Mohamed Merah, in Toulouse in 2012 because she was a Jew. Look at her well because it is YOU who killed her and who conspired for her murder since even before her birth, by heating up criminals and by flattering Radical Islam because you are mad of downright hatred towards France, Israel, USA, Capitalism, the Armed Forces and I do not know which other cause you maintain to justify your blackness and your fundamental inhumanity.
To all my fellow citizens who still have a little commonsense and still a little heart: Take a good look also at this little girl who was awfully removed from us. Our own 9/11 was the day when she was shot and killed in her schoolyard, on national ground, with two other children and a teacher. Even the Nazis, to my knowledge, did not make such an act of shooting and killing a Jewish child in a French school!
For Heaven's Sake, wake up, face the facts and look at the situation as it really is. Stir yourself and rebel against this political mud and this inner sabotage by an infamous propaganda that, for too long has been destroying our country, spitting on our values, despising our dead and arming the killers who shot children in our schools!
It is often heard that France is done for! It is not it if you wake up, because France is you!
– –
Pug